It takes two, baby! Get there faster in the HOV lane.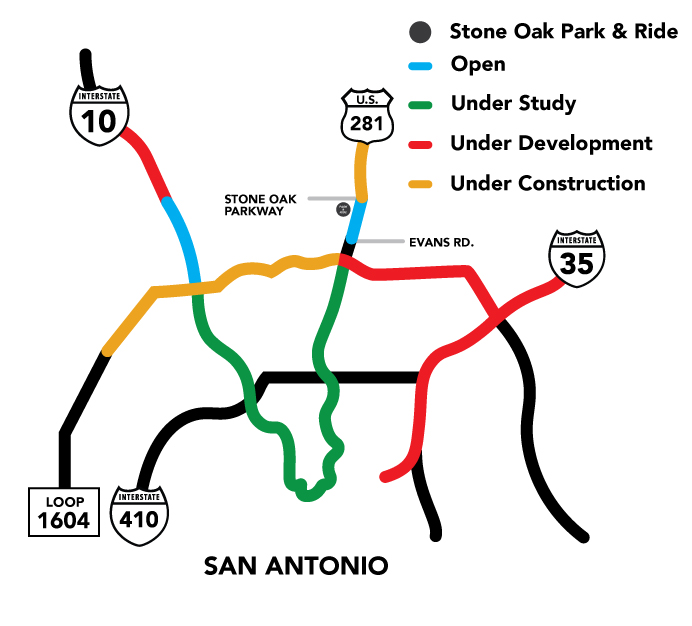 Do the new HOV lanes have you rethinking your commute? Commute by carpool, vanpool, or bus on the HOV lane to save time and money. High-occupancy vehicle (HOV) lanes allow vehicles with two or more passengers to bypass traffic in regular lanes - 24 hours a day, 7 days a week. They are free to use.
Carpools, vanpools, transit buses, and limited specialty vehicles are eligible to use HOV lanes.
HOV lanes are now open on IH-10 West, from La Cantera Parkway to Ralph Fair Road, and US 281 between Loop 1604 and Stone Oak Parkway.
For more information on HOV lanes, visit the VIA Metropolitan Transit website.
Carpool
Use the Alamo Commutes website or mobile app to find a carpool matchand earn rewards for recording your sustainable trips. Alamo Commutes is free to join and use.
Create your profile and set your search guidelines.
You can customize the type of carpool match you're looking for such as smoking or non-smoking, by gender, if you are comfortable being a driver or rider and more.

On the website, go to "Account" in the top navigation bar and select "Profile" from the alphabetical list.
On the app, go to "Me" in the bottom navigation bar and select "Profile". Some personal information, such as where you work and your schedule, will help to optimize your match selection.

Search for carpool matches.

On the website, go to "Find Rides". Select your trip type (a commute to work or school, single trip to the grocery store or doctor, or to a specific event or destination).
On the app, go to "Rides". Type in your origin (such as your home address) and destination (work address).

Review and contact your matches.

On the website, potential matches will display on the left-hand side of the screen by clicking the carpool icon.
On the app, matches initially display on the map, indicating their proximity to your origin and destination. You can view the matches as a list by selecting the bulleted list icon on the top left. Select a match to view their associated employer, schedule and contact option.
You can find a carpool match on Alamo Commutes or you can carpool with a family member or friend. Children and infants are also considered eligible HOV passengers.
It does not cost money to use an HOV lane. If you find a carpool partner for your commute, you can discuss a potential arrangement for payment.
If you're wondering what is a fair exchange, you can use the IRS' rate for mileage reimbursement. It is inclusive of all of the costs of operating a vehicle, including fuel, maintenance, insurance and depreciation. As of 2021, it's estimated at 56 cents per mile.
The Texas Department of Transportation (TxDOT) maintains several Park & Pool locations along IH-10. You can also park and pool at the Crossroads Park & Ride, maintained by VIA Metropolitan Transit. If you're traveling along US-281, you can take advantage of the Stone Oak Park & Ride.
For a full map of the region's Park & Pool and Park & Ride locations, visit the Alamo Area MPO's iMap. Select "VIA Facilities" and "TxDOT Park and Pool locations" under "Transit Data".
Yes! Log your carpool trips in the free Alamo Commutes mobile app or website. You'll earn points for each trip - which you can then redeem for rewards and discounts at area and online retailers, restaurants, entertainment venues, and more. You can also enter monthly drawings for gift cards.
What happens if your carpool partner gets sick and leaves you stranded at work? Or your daughter falls ill at school and you don't have your vehicle?
If you've been worried about unexpected circumstances derailing your commute, our Emergency Ride Home (ERH) program can allay those fears.
If you've taken a smart commute to work and you have an emergency, the Alamo Commutes ERH will pay for your trip home - up to $50 per trip, up to four times per year.
Visit Alamo Commutes to learn more about the eligibility requirements.
Vanpool
Visit the Alamo Commutes website and sign in or create your profile.
Select "Find Rides". From the drop-down box, select "For my commute". Input your home and work or school address.
Review vanpool routes. On the left-hand side, you'll see carpool matches, vanpools, transit routes, and more. Select vanpools to view each vanpool's route, schedule, and contact information.
Contact the vanpool. After selecting a vanpool, select "Contact and Fees" to contact the Vanpool Coordinator via phone or email.
Want to start your own route? Contact Commute with Enterprise! Be prepared to share your work schedule, including your departure and return times, origin address, and destination address.
The monthly costs depend on the vehicle type and the distance you travel. Everyone in the vanpool splits the costs for rent and fuel. Costs may be offset by VIA Metropolitan Transit, through employer subsidies, or through pre-tax payroll deduction programs. Contact VIA Vanpool for additional information.
This cost includes:
A recent-model van, SUV or crossover
Comprehensive maintenance program
24/7 roadside assistance
Insurance & physical damage protection
Additional expenses may include fuel, parking, and toll fees.
You will be contacted once a seat that matches your commute is available. Once confirmed through the Ride Coordinator, you will be added to the Vanpool roster. You will be given meeting times and pickup locations.
Vanpoolers agree on the most convenient places to meet or pick-up locations along the route to work. We suggest choosing a central location by your home in a safe and well-lit area near public transportation.
We will connect you with coworkers who share the same work shifts (day or night) to help ensure your ride matches your work schedule.
If you are unable to join the vanpool's return trip due to unscheduled overtime or a personal emergency, you may be eligible for Alamo Commutes Emergency Ride Home.
We take care of both minor and major repairs, as well as comprehensive maintenance. With more than 80,000 service partners, we'll help you locate a maintenance shop that's convenient for you. Just call (800) VAN-4-WORK for roadside assistance and we'll help ensure your crew gets back on the road, and provide a replacement vehicle at no cost to you.
Transit
Regular Bus fare is $1.30 and Express Bus fare is $2.60. Reduced rates are available for children ages 5-13, seniors age 62 or older, Medicare recipients, persons with certain disabilities, active-duty U.S. military, and students. However, the best value can be found in VIA's Day Pass, 7-Day Pass and 31-Day Pass. Learn more about VIA's Reduced Fare Program at VIAinfo.net.
VIA offers a single Day Pass, 7-Day Pass and 31-Day Pass at a savings for frequent riders. A single Day Pass is $2.75 and is good for unlimited bus service all day. This pass can be used on regular, express, and Primo service. A 7-Day Pass is $12. That's about $1.72 per day. And a 31-Day Pass is just $38, or about $1.23 per day. Customers who qualify for a reduced fare, can save even more. See the chart below to see our one-way fares.
| Fares (One-way) | Full | Reduced |
| --- | --- | --- |
| Regular Bus | $1.30 | $.65 |
| Express Bus Service | $2.60 | $1.30 |
| Transfers (unlimited trips for 2.5 hours) | Free with paid fare | Free with paid fare |
| Special Events Service | $2.50 | $1.25 |
Single-ride tickets, passes and special event tokens are available at the following locations:
VIA's mobile ticketing and trip-planning app, VIA goMobile. The app is free to download for Apple and Android devices and there are no additional fees to purchase VIA products.
Single-ride fares or a single Day Pass are available on the bus. Day Passes must be requested before inserting cash into the farebox. Exact change is not required; change will only be issued if amount exceeds $1 and will be in the form of an e-fare change card if requested.
VIA Information Centers, VIA offers full-service Customer Service Centers throughout the service area. For a list of these centers, visit VIAinfo.net and view the Contact section.
Retail outlets, including most H-E-B stores.
Download the free VIA goMobile app for Apple and Android devices to purchase fares and plan trips from your smartphone.
Visit our VIA Trip Planning page available on VIAinfo.net. Plan a trip using Google Maps, enter your origin and destination addresses and choose the "Transit" option. Another option is to download PDF versions of the bus route pocket schedules so you can access trip information with or without internet access.
VIA partners with several third-party trip planning apps to make it more convenient for passengers. Apps such as Transit App, MoovIt and TripGo provide up-to-date bus service information. Download through the app store on your mobile device.
Several of our busiest stops and transit centers have Next-Gen digital signs that provide next bus arrival times based on the real time location of the buses.
If you're at a VIA bus stop and need to know when the next bus will arrive, text the designated Bus Stop Number (five digit number on the bus stop sign) to 52020 for real-time information.
VIAtrans, curb-to-curb paratransit service, provides transportation for persons with disabilities who require additional assistance to board, ride, or disembark from a VIAtrans van. Individuals must apply for this shared-ride program to determine eligibility. Download the application from our website.
VIA Customer Service representatives are available from 6 a.m. to 10 p.m. Monday-Friday, 7 a.m. to 7 p.m. Saturday, and 8 a.m. to 5 p.m. Sunday at (210) 362-2020. Schedule is subject to change during holidays.